Another version of the orange ribbon - Linda's contribution
- - - - by Joseph
I find the following ribbon, with it's black background, to be the best yet.
My thanks to Linda for producing it.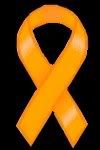 The photobucket code is as follows:
[img src="http://img.photobucket.com/albums/v615/dt804/ribbonblkbkgr.jpg" alt="Image hosted by Photobucket.com"]
You'll have to replace the initial [ and terminal ] with < and >, respectively.
It is best to copy the ribbon, rather than link to photobucket (because of the limited bandwidth they provide).